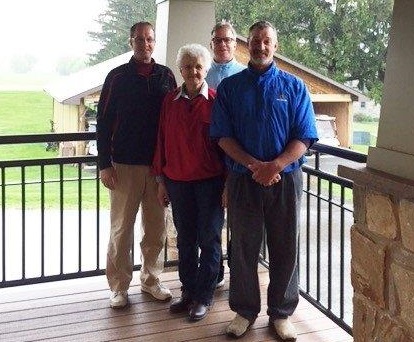 The story of Moccasin Run Golf Club is first and foremeost a family story. It's a story about a father, Paul King, who wanted his five sons to work together in the family farming business, but just didn't have enough farmland to support five families (it takes a lot!). One of his sons, Mike, was not able to farm, as he uses a wheelchair.
In the mid-1980s, Paul King arrived at the idea of building a golf course on a 100-acre farm that he had owned and farmed for 20 years. The business would preserve the beautiful, rolling land and also provide employment for all five of Paul's sons. Sounds simple, doesn't it? But it was not.
Bringing Moccasin Run Golf Club to fruition is a testament to the family's commitment to the concept. There was local opposition to converting the farm to a golf course, with challenges ranging from environmental concerns to impact on land prices and development. There was simple skepticism that a golf course could succeed "out here." Yet the challenges were met, one by one, and golf course construction and groundbreaking took place in April 1986.
A golf course is not something that is simply built, it also must grow like a living thing. All the trees on the course were planted as saplings, and it took years of care to nurture them as well as the specific grasses used on greens and roughs. Friends were made in the golf community, and golfers were enticed to test this new and unproven course. A Pro Shop was established in the stone farmhouse on the property, and then moved into the clubhouse when it was built. Mike King operated the Pro Shop for 20 years, fulfilling one of his dad's dearest wishes.
Like all family businesses, there were ups and downs and times changed. Two of the brothers moved on to other endeavors. Today, Moccasin Run is operated by Curtis & Grace King, Rodney King continues as Club Golf Pro, and Kenton King continues as Assistant Superintendent. A small but dedicated team helps them provide an exceptional golf and leisure experience in a wholesome family setting. Pictured Above: Curt, Dorothy (our mother) Rodney & Kent