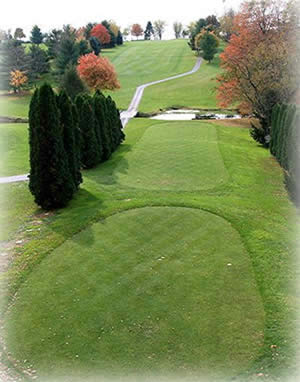 The name Moccasin Run is derived from the Indians that dwelt along the Octorara Creek. According to The Atlas of Chester County PA, Early Indians, Trails, and Villages, it locates the Shawnee Indians in West Fallowfield Area, which is 1 mile west of the golf course along the Octorara Creek. the Nanticoke Trail was the now Route 10 (Octorara Trail) which is the water shed divide between the Delaware & Chesapeake River. We are situated 3 miles north from the intersection Route 41 and Route 10 (Octorara Trail) that the Nanticoke Indians used in the early 1700's
The property Moccasin Run sits on was once the land of a George Glenn and is named such on the atlas of 1883 Breou Farm atlas map for West Fallowfield. George Glenn also shows up on the 1873 Witmer Farm Atlas map for West Fallowfield. The 1883 map shows a frame barn and a stone house at the end of a short drive off Schoff Road. The original stone house is still on the Moccasin Run property (and has been converted into an event venue). The frame barn was taken down and some of the original barn wood was saved and used in the present day Pro Shop which was built on the North block wall of another barn on the property that was used as a calf shed.
On both of these maps there is a stream going through the property which today is still in existence and comes into play on holes 5,8,11,14,15,16,17,18. This creek which flows thru Moccasin Run is a tributary (not officially named) to Wolfe's Run Creek which flows into the Octorara creek where the Shawnee Indians settled in the West Fallowfield area.
Course Photos
→ Click Image to Open • Use Arrows to Scroll ←
Scorecard